Top-quality Poland, Yorkshire, Hampshire and
crossbred showpigs for sale at the farm.
Call early for appointments or a free guaranteed selection.

$500.00 Future Purchase Credit With Junior Show Champion (Barrow Or Gilt) At Any Of The Following 2011 Junior Shows
• Illinois State Fair
• Indiana State Fair
• Iowa State Fair
• Kentucky State Fair
• Missouri State Fair
• Nebraska State Fair
• Ohio State Fair
• Tulsa State Fair
POLANDSˇHAMPS-- YORKS-- BERKS

• February 22
• March 22
• April 19
• May 26
• June 21
• June 27 Bred Gilt Sale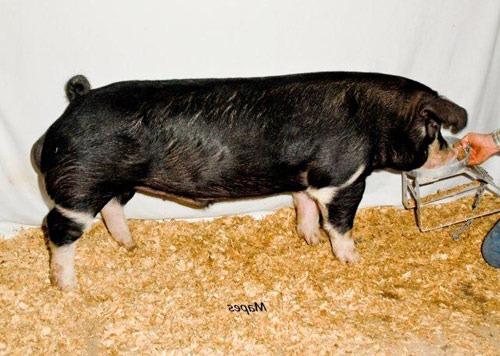 LOCK DOWN
(OLD SCHOOL X WITHOUT QUESTION)
In my career of breeding purebred Polands (43 years), there have been very few opportunities to put together or purchase what I truly believe to be individuals that are naturally prepotent and have the ability to effect a breed for the good of positive changes. The boars that come to mind that I have used at Masters Polands include legends such Peterbilt, Beefalo, Plasterbilt, Natural, Masterpiece, No Doubt, Perfect Timing and Old School.
Lock Down has the potential and I feel will be certain to join the elite list above. I have watched this young herdsire develop from Day 1. I offered to several times to buy my half from my good friends and partners Danny and Jonathan Hisey, but they wanted to exhibit him at Belton. I feel fortunate to be able to buy the other half of Lock Down at the SWTC.
Lock Down has been wide and deep with a big square hip from birth. He comes at you with a chest floor that is blown wide open and has the eye appeal for todayÝs show ring. He has a big explosive top with shape and muscle, a big center rib and stands on heavy bone. The only way to be on the ground floor for Lock Down genetics is to contact us about his exciting new offspring that has hit the ground beginning this July.
There are no Semen sales on Lock Down!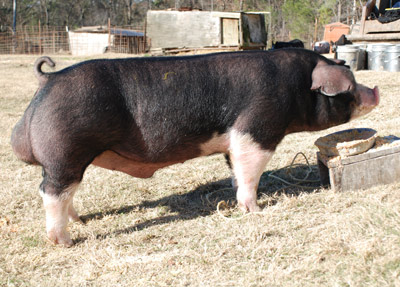 UNSTOPPABLE
(Fast Forward x Bulletproof)

2010 Reserve Champion and
Top selling Boar at the Fall Classic

Stress Carrier • Limited Semen
Semen Price: $100/dose
Unstoppable is an amazing Herdsire. This boar displays as much potential as any boar that we have used in recent history. He posseses as much true width of body and heaviness of structure as any boar of any color. The perfection of this boar starts with his feet and legs and hip and hind leg structure. He balances so well and blends into a huge rib cage with monster bone and is loaded with muscle and top shape.
Unstoppable is owned jointly with Jesse Birkenholz, Chad Brotherton, Amanda Ingram, Orin Allen and Jerry and Andrew Kobyluk and housed at Masters Polands.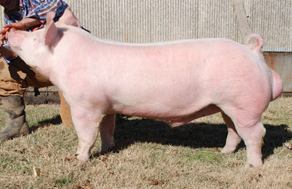 ALL WHITE
(Out There x Master Plan) Crossbred
Semen Price: $50/dose
If you need a Boar to sire Yorkshire Composite Barrows -- LOOK NO FURTHER! We retained this great herdsire to sire Yorkshire composite barrows for our Southwest Barrow trade this fall. This guy is opened up front to rear, heavy in his structure and bone work, excellent on his feet and legs. He has a huge muscular top that carries into a wide based look as he goes away from you. He does not take a bad step and look powerful from any angle. His littermate was 2nd lightweight Market Hog at the 2010 American Royal. Study his pedigree and you will agree that this one will breed true to form.
Click here to view additional photos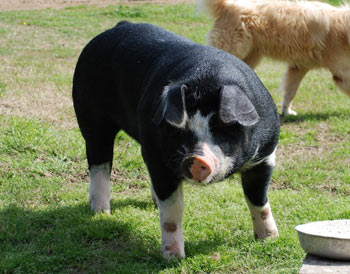 OLD SCHOOL
(Big Threat x Excursion)
Premier Sire 2010 WTC Belton, TX
Stress Carrier • Semen Price: $75/dose
Thank you Ben Culp for finding this progressive new Poland herdsire. Old School is the outcross boar that we have been searching for. He is the most impressive outcross boar that we have added to our program since No Doubt.
Click here to view additional photos and impressive list of winnings!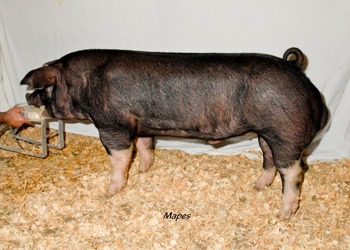 SCHOOL'S OUT
Old School (2010 Wtc Premier Sire) X Round Trip
Stress Carrier • Semen Price: $75/dose
We retained Schools Out to intensify the extreme width, depth of body and muscle that this Poland herd sire can add to the breed. He is impressive from any angle having a huge square hip, massive bone work and extreme soundness on all corners.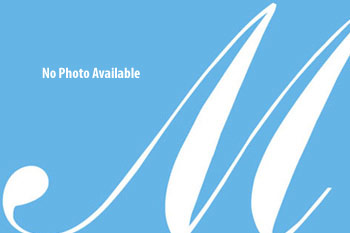 TRIPPLE SHOT
(Night Tripp X Maximus)
I apologize that I do not have a photo of Tripple Shot. I purchased Tripple Shot at the 2009 NBS. He was the youngest boar exhibited at the NBS. He is wide chested, moderate framed with bone, footsize and the correct amount of Muscling. I am so excited about his first crop of pigs. Tripple Shot will make a big impression on our genetic pool in the future.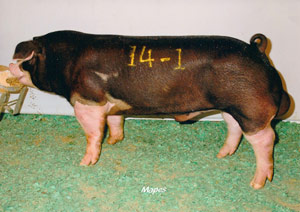 ULTIMATE ANSWER
Semen $75.00 Stress: Carrier
(Without Question x Perfect Timing)
Ultimate Answer is the widest based, heaviest structured Poland Boar that I have ever raised. He is unique in being balanced at every angle and the eye appeal that is so desired in the showring. He was a class winner at the 2010 STC but excelled all the other entries in terms of depth of body, mass and true muscle shape. Read and View More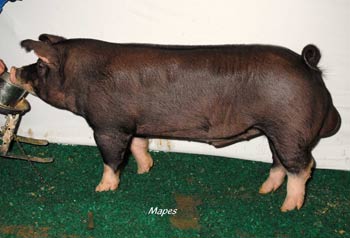 Without Question
2008 WTC Champion Boar
Semen 75.00 per dose • Stress: Carrier
Sire of:
Champion Barrow, 2009 Ohio State Fair Junior Show
Champion Poland Gilt, 2009 Oklahoma Youth Expo
Res. Champion Gilt, 2009 San Antonio Junior Show
Champion Gilt, 2009 San Antonio Open Show
3rd Heavyweight Poland Barrow, 2009 San Antonio Stock Show
3rd Heavyweight Spot Barrow, 2009 San Antonio Stock Show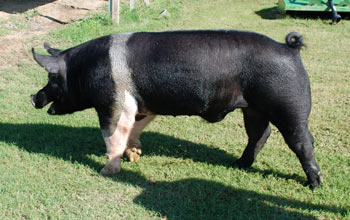 CHANGE 13-1
(Leverage x Elephant)
$75/dose
This Hampshire herd sire will put functionality back
into your breeding program. He's extremely sound
on his feet and legs and has a tremendous forearm
and foot size. A tall-fronted Hampshire boar that
comes at you wide and square and has the ability to
produce offspring that can grow fast. If you need a
CHANGE in your Hampshire program, give us a call!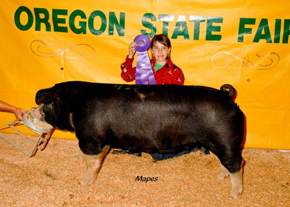 2010 CHAMPION AOB OREGON STATE FAIR

Congratulations to Morgan Fowler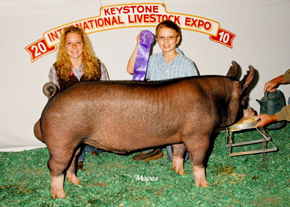 2010 CHAMPION BERKSHIRE BOAR
KEYSTONE INTERNATIONAL

Congratulations to the
Jeff Norris Family, Hopewell PA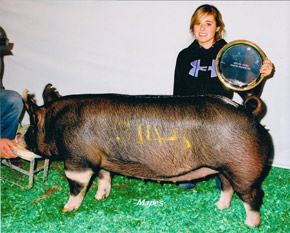 Congratulations to Porsche Watson
2010 Fall Classic Champion Berkshire Gilt

She was purchased from us as a weanling gilt.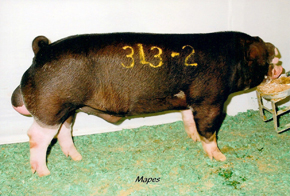 2010 NBS Champion Boar ˝ Knight School

Thanks to L&C Polands for your purchase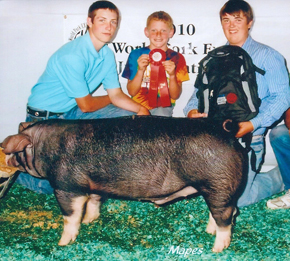 2010 WPX RESERVE CHAMPION BARROW

Congratulations to Sterling McGuire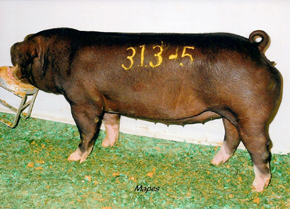 2010 TULSA STATE FAIR CHAMPION GILT

Congratulations to Jessica Lighte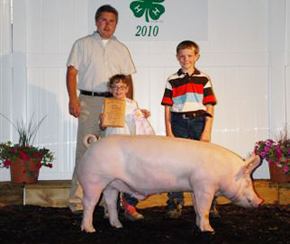 2010 WAYNE CO. IND.
RESERVE OVERALL BARROW

Congratulations to the Allan Wampler Family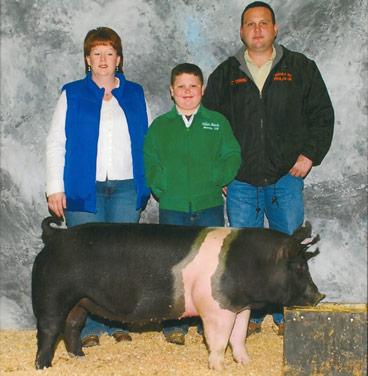 2010 Champion Hampshire Gilt
Okmulgee County Livestock Show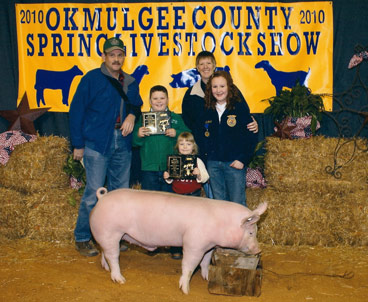 2010 Okmulgee County
Yorkshire Champion Barrow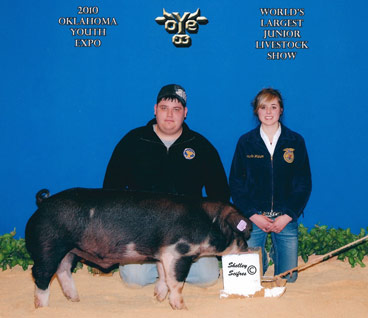 2010 2nd place lightweight
OYE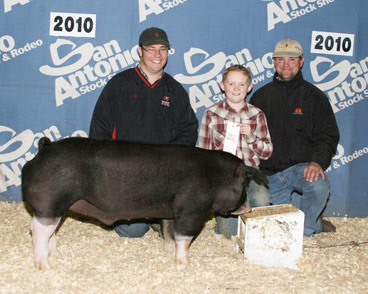 2010 3rd Place Lightweight
San Antonio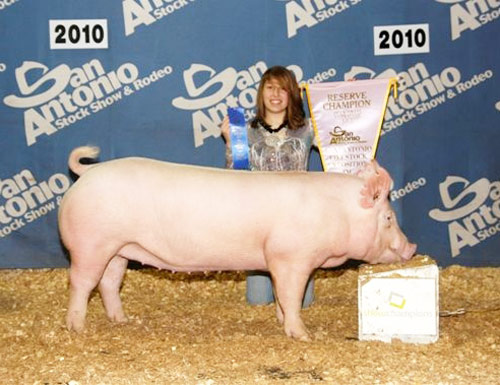 Reserve Grand Champion
San Antonio Open Show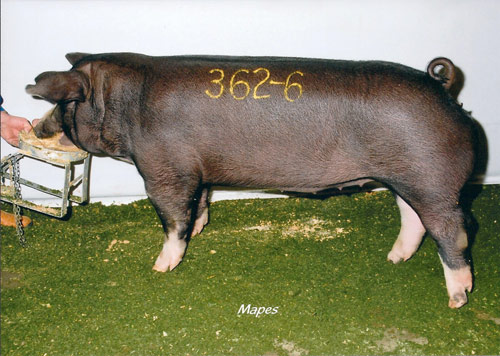 2010 WTC Cahmpion Poland Gilt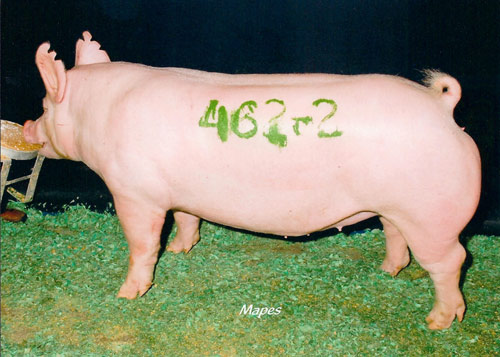 2010 WPX 2nd Place Yorkshire gilt
2009 Ohio State Fair Champion Gilt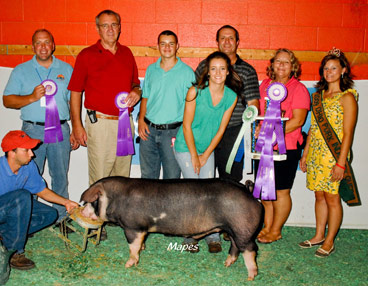 2009 Ohio State Fair Champion Barrow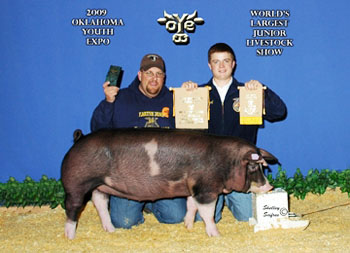 2009 OYE Champion Poland Gilt
Sired by Without Question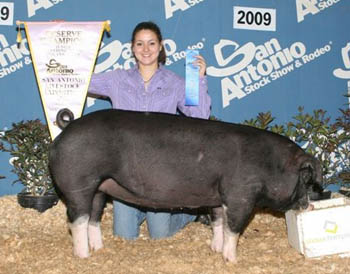 2009 San Antonio Reserve Champion Gilt
Sired by Without Question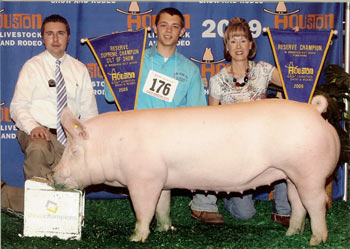 2009 Houston Reserve
Supreme Champion Gilt
2009 2nd Place San Antonio
Heavy weight Barrow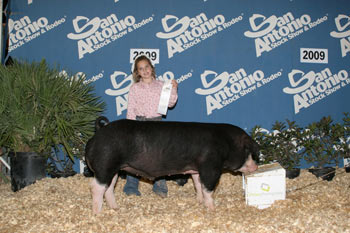 2009 3rd Place San Antonio
Poland Barrow
2009 3rd Place San Antonio Spot Barrow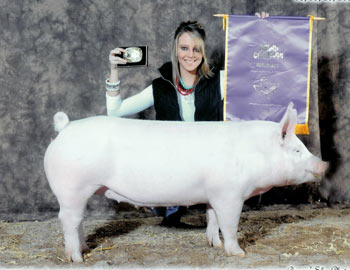 2009 Reserve Champion Gilt
Fort Worth Stock Show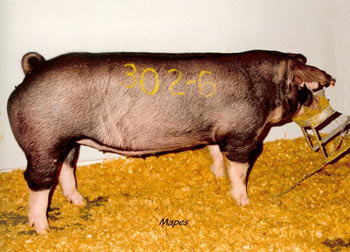 2009 WTC Reserve Champion Gilt (Poland)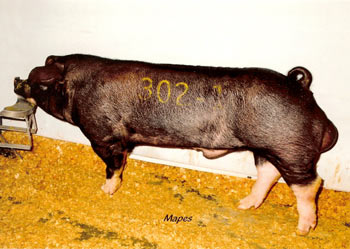 2009 WTC Reserve Champion
Poland Boar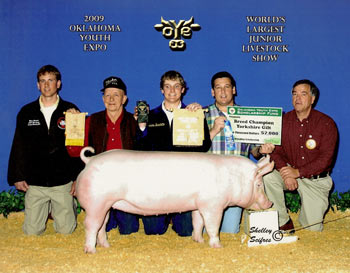 2009 OYE Champion Gilt
Record includes
the following winners:
2010 WTC Champion Poland Gilt
2010 WTC Reserve Champion Poland Gilt
2010 WPX Reserve Champion Poland Gilt
2010 San Antonio Reserve Champion Open Show Poland Gilt
2010 Fort Worth Reserve Champion Yorkshire Gilt
2010 San Antonio Reserve Champion Open Show Yorkshire Gilt
2010 San Antonio Class Winning Yorkshire Gilt Premium Sale Poland Barrows at San Antonio, Houston and Oklahoma City
2009 OYE Champion York Gilt
2009 OYE Champion Poland Gilt
2009 Houston Supreme Champion Gilt
2009 San Antonio Reserve Champion Poland Gilt
2009 Fort Worth Reserve Champion York Gilt
2009 WTC Reserve Champion Poland Gilt
2009 WTC Reserve Champion Poland Boar